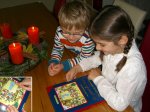 During Advent, parents and grandparents like to tell wonderful stories: of snowmen and the Snow King, of St. Nicholas and Serf Ruprecht, of the Christ Child and Father Christmas, of splendidly decorated Christmas trees and of little angels that fly secretly into sitting rooms on Christmas Eve. The children's eyes light up and their hearts race in anticipation.
| | |
| --- | --- |
| | |
| Es glänzt ein Stern | Peter Kuzter-Salm |
This book is a compilation of stories, songs, rhymes and poems for each of the 24 days of Advent. It is a comprehensive collection of Christmas narrative that sets the mood for the pre-Christmas season.