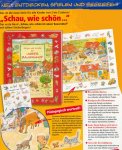 Mein großes Puckerl und Muckerl
Wichtel Wimmelbuch

ISBN: 978-3-7004-4381-0




Mein großes Weihnachts Puzzlebuch

ISBN: 978-3-7004-4386-5




Mein großes Bauernhof Puzzlebuch

ISBN: 978-3-7004-4387-2

Mein großes Märchen Puzzlebuch

ISBN: 978-3-7004-4369-8

Das Buch beinhaltet sechs
15-teiligen Puzzles und eine CD,
auf der 12 Märchen in Originalversion
von Peter Faerber wiedergegeben
werden. Als innovative Beigabe gibt
es 24 Spielkarten, die vielseitig
eingesetzt werden können.

Die farbenfrohen Illustrationen stammen
von Marlit Peikert.

Das "Märchen Puzzlebuch" wurde, genauso
wie die bisherigen Puzzlebücher, von unseren
Erzieherinnen und Erziehern begleitet und geprüft.

Die sechs farbenfrohen 15-teiligen Puzzles
fördern Kreativität und logisches Denken.
Durch die Präsentation der Illustrationen
sowohl als Puzzle als auch als darunter
nochmals wiedergegebenes Bild wird das
Puzzlebuch zum Bilderbuch. Ein Buch, das
auch zum Schauen und zum Erzählen
phantasievoller Geschichten anregt.

In der von uns erstellten Märchensammlung
finden Sie die schönsten Märchen der
Gebrüder Grimm in einer ausgewogenen Themenmischung.

Mein großes Fingerspiele-Puzzlebuch

ISBN: 978-3-7004-4368-1

Mein großes Fingerspiele-Puzzlebuch

ISBN: 978-3-7004-4352-0

Unsere Tiere – Mein großes buntes Wimmelbuch

ISBN: 978-3-7004-4348-3

ISBN:
978-3-7004-4330-8

My Big Heidi Teeming Picture Book

This wordless teeming picture book is very different from all the other Heidi picture books. The publishers decided not to follow the often cliceed cartoon images of Heidi. The child-friendly illustrations in this book provide a vast amount of information regarding Heidi's contemporary time.

The Heidi teeming picture book is never going to be boring: time and again there are new things to discover. Each busy scene can tell unbelievably many stories. It facilitates a time-journey to the source of Heidi's story. The lovingly detailed illustrations enchant the children and let them forget their surroundings.

"Heididorf AG", designers of the Heidi Adventure Village in Maienfeld, Switzerland, recommends this book for small and big Heidi fans.

My big colored
Christmas Wimmel Book
My big Christmas
Wimmel Book

Puzzle Wimmel Book

In this beautiful picture book, the big Wimmelbuch
"Life on the Water" is accompanied by exciting stories, and eight full-colour 48-piece puzzles with lots of interesting and exciting details. This book invites you to play and discover.

My big Easter Wimmel Book

My Big Colourful Easter Teeming Picture Book

Wordless teeming picture books are never boring: time and again there are new things to discover, as each busy scene can tell unbelievably many stories!

Of course at Easter too: it is a time teemed with activity, especially for the cute Easter bunnies whose little hands and feet have so much to do.

For our children, the Easter-egg hunt, either indoors or outdoors, is an adventure; for parents and grandparents it is a happy time. In Kindergarten too, the Easter bunny is a very welcome guest.

Looking for the many hidden stories in these pictures exercises the child's concentration capabilty and the retelling of what has been observed promotes the acquisition of language skills.

ISBN: 978-3-7004-4326-1



For searching, seeking and finding!
Wimmel pictures, you can make a fun, exciting
discovery journey through the seasons.

My Seasons Wimmel Book My Seasons Picture Book

A summer day in our city
A summer´s day in Busytown

An activity and look-and-search book with lots of things to look for!

Designed and illustrated by Pernelle Laulund

Experience the city all through the day, from one end of the town to the other.

12 continuing scenes (12 doublepages) depict houses, building site, school, shopping area, circus, zoo, train station, airport, park, harbour etc. etc. Everywhere, children, families and animals are bustling with activity.

On every double page you will find a clock to see the time of day. It´s not easy to find the clocks.

Where is the clown?
Look at the old lady's many cats!
Why is there a cup of coffee on top of the car?
What is the girl getting for her birthday?
Look, the monkeys are letting out the lions at the zoo!
Find the mole on all pages!
Follow the jogging lady through the city!
Discover the channel digger on all the pages!
Find the fisherman fishing on several pages!
Look at the man in love what he is doing to get the friendship of a girl!

And even more picture stories you will discover!

Find the same characters in different places in the town, doing different things during the day.
Look, see and find new stories every time you look through the book.

Lots of entertainment and enjoyment for children 3 and up!

Look how beautiful your time at kindergarten is


For each picture one can tell individual stories; there are no boundaries to one's fantasy. The book was developed with the support of devoted specialists from the institute for children's education, and of enthusiastic kindergarten and preschool teachers who tested the book in their work.
The 24 pages are beautifully designed with 11 large format illustrations by our successful design team Aleksandra & Aleksander.

Omnibus edition


The books concern themself with a particular environment and the day to day life of the children. Through the playful use of pictures and words, the little ones progressively learn to understand their surroundings and thereby discover the world. Loving details drive away boredom in the playroom. There is always something new to discover and re-encounter.

The fantastic child-orientated illustrations encourage repeated looking, discovering and joint story telling. Children understand concepts and learn logical connections in a playful and simple way, and are able to use their imagination to tell their own stories for each picture.



Look, how nice it is in the city and countryside
Look, how nice is
animal´s world

Our trains
Already, from the age of two years, children find that picture books help them to understand their environment and to make sense of their experiences. The board book " Our Railways" will bring meaning to the fascinating world of these hissing, stomping, throbbing machines.

This picture book is a reprint from the 1950s, carefully restored and made available once more.
Look how nice .......
Look how nice .......
| | | | |
| --- | --- | --- | --- |
| | | | |
| Kindergarden | City | Water | Christmas |
Story Boardbooks Landscape

The hedgehog Family

Teddy and his Brother

The Gnome Family Adventures

In the Land of the
Meadow Elves

The Jolly Dwarves

Christmas picture book reprints
Easter picture book reprints