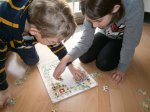 My Big Teeming Switzerland Puzzle

This educative, informative and instructional Teeming Puzzle is
suitable for use at home, in Kindergarten and in Primary School.

With this Teeming Puzzle the children will enthusiastically go on an expedition through Switzerland and they will be delighted by the many details and scenes which are there to be discovered.
ISBN: 978-3-7004-4309-4

Four Children's Jigsaw Puzzles in carry-case

The four colourful motives make sure that even the
youngest beginner will have lots of fun doing them.

Contents: two 20 piece puzzles and two 35 piece puzzles.
Size: 26 cm x 18 cm
Ages: 3 to 7 years.